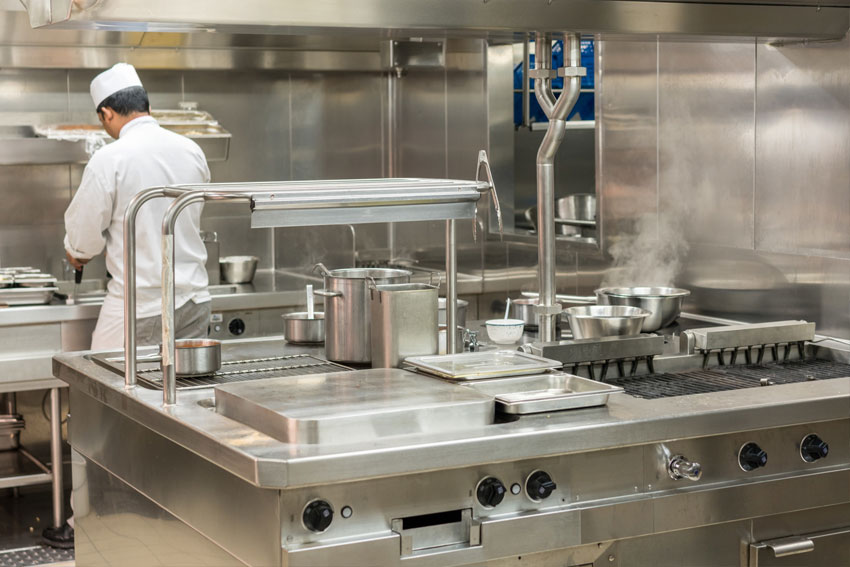 7 Signs You Need New Commercial Kitchen Equipment
Are you experiencing commercial kitchen equipment frequent breaks down? If so, consider replacing your existing old worn-out appliances.
When your kitchen equipment begins to break down, your business can fall into shambles. Dysfunctional kitchen equipment leads to business losses, asset damages, and staff injuries.
As a business owner, it's your responsibility to make sure all your cooking equipment is in proper working condition. Functional cooking equipment will help promote high levels of food preparation and service. You'll also have an opportunity to focus on other restaurant needs.
Here are seven signs that your equipment needs to be replaced.
1. Safety Risks
Safety needs to be a top priority for all restaurants. Aging appliances most come with massive risks. Using a piece of old worn-out equipment risks the safety of your assets and employees.
It's the role of the commercial kitchen managers to identify cooking equipment that is no longer safe to operate.
How will the managers identify unsafe equipment? Every restaurant has the responsibility of scheduling equipment inspection appointments with professionals.
Kitchen equipment inspection specialists identify all appliances that need change. They also offer professional recommendations of the best suiting machines.
There are ways you can identify old worn-out equipment. Bare wires, missing switches, and malfunctioning buttons are always the key indicators.
Early replacement of equipment promotes safety and helps minimize damages and injuries costs.
2. Raising Maintenance Costs and Repair Costs
Steep equipment maintenance and repair costs are an indication to replace worn-out machines.
At times, commercial kitchens operate for a long period. Extended operating hours could result in frequent machine breakdowns. Frequent breakdowns of a worn-out machine are costly to the business compared to purchasing a new one.
Constant breakdown during your busiest business hours results in losses. This is because you'll fail to meet your customers' needs.
Choose to see replacing the worn-out machine as a blessing in disguise. New equipment comes with a warranty. A warranty ensures that you won't spend time and money on repairs for at least a year or more.
3. Unavailability of Spare Parts
Restaurants may start to find it difficult to source parts of some of the older model kitchen equipment.
It's common for outdated appliances to lack replacement parts. Finding it hard to source a spare part prolongs the machine's downtime.
Replacing the old models with new kitchen equipment will help eliminate this problem.
Modern machines are easy to find their spare parts. This will save you money and cut downtime.
4. Increasing Utility Bills
As commercial kitchen machines depreciate over time, they consume more power than before. Restaurant equipment consumes up twice as much energy as the average commercial space.
Failing and old appliances may cause your utility bills to shoot. An old machine requires to use much energy for it to be functional.
Old machines get damaged because of the excess heat they use up to function. As the restaurant owner, you'll pay for the excess electricity bills and frequent repairs on the machine.
Since every restaurant's goal is to generate more money than they spend, replacing an old worn-out machine is the solution.
Replacing faulty and old equipment can cut energy costs by up to 25%.
5. Decreased Performance
Sadly, nothing lives forever. Even if you're careful about maintaining your kitchen equipment and using it, at some point, it will fail.
Power surges, rust, and careless coos are a few of the usual dangers that might cause damage to your equipment.
Decreased performing machines lead to food spoilage before expiration dates.
From such results, your kitchen equipment may record reduced performance. Your old machine may not handle the rigors and demands of your expanding restaurant.
To promote functionality in your kitchen, you may need to bring in new appliances. If you've no idea the brand to get, seek a professional's help. Give them details on your restaurant's needs, and they'll use their knowledge to offer perfect machine recommendations.
New appliances can always accommodate your current capacity and future needs.
6. Major Menu Changes
Most commercial kitchens and restaurants undergo periodic updates to their menu offerings.
Menu changing is essential for every restaurant since it creates an opportunity to increase restaurant revenue. Menu changes help with increasing your clientele.
This shows that for a successful restaurant, menu change is inevitable.
Menu changes may have a huge impact on the type of equipment currently in use. As the restaurant owner, you may need to replace existing models with new models to accommodate the new kitchen demands.
To make a wise decision on the equipment change, restaurant managers need to carry out research.
It would be best if you considered purchasing kitchen equipment that will meet your kitchen's immediate menu needs as well as your projected needs over the next few years.
7. An opportunity to Combine Two Functions in One Unit
A good example is using both commercial food steamer and convection oven. You might manage to combine both operations with a combined oven.
Analyse what you have prepared in the restaurant. Identify the equipment in the market that combines two functions.
Managers should identify multi-functional appliances that could serve their purposes. Seeking recommendations from fellow restaurant owners can always help make a wise decision. There is also the option of seeking help from salespeople in the stores.
Multi-functional equipment will help save on space and operational costs.
Replace Your Commercial Kitchen Equipment Today
If you're experiencing any of the above-listed difficulties, choose to replace your commercial kitchen equipment. Replacing your equipment will promote increased efficiency, reduce utility bills and safety in the restaurant kitchen.
Are you considering changing any of your kitchen appliances? Contact us today for more information.